The CreateJS team has been working really hard on lots of things, and we are excited to announce a major release milestone!
New library release
The entire suite of libraries has received a dot-update, and are now available in both GitHub, and the CreateJS CDN. We have packed this release with a ton of new features, enhancements, and some huge rewrites. Notable updates include:
Entire Suite: A brand new inheritance model, and major performance increases across the board.
EaselJS 0.8.0: Major updates to Graphics, performance enhancements on filters, performance & unit tests, and time-based animation on MovieClip.
TweenJS 0.6.0: Inclusion of the EaselJS Ticker as part of the library, and lots of bug fixes.
SoundJS 0.6.0: A big internal rewrite, getter/setters, unit tests, and lots of bug fixes.
PreloadJS 0.6.0: An awesome refactor to externalize loaders, bug fixes, and a new SpriteSheetLoader.
As usual, we have provided a minified and combined version of the entire suite on the CDN.
Visit GitHub to access the libraries, and check out the VERSIONS.txt in each repository for a full list of what has changed. The updates are compatible with Flash Pro CC's HTML5 Canvas export, and should be part of the next Flash Pro release.
A new website
A brand new site has been deployed at createjs.com. We felt that the library has matured a lot, and deserved a new design that better reflected that.
Brand new simplified iconography
A responsive design with much better mobile support
Easy access to demos, documentation, downloads, and quick-start information
A demo "editor", which allows live editing of the demos on the site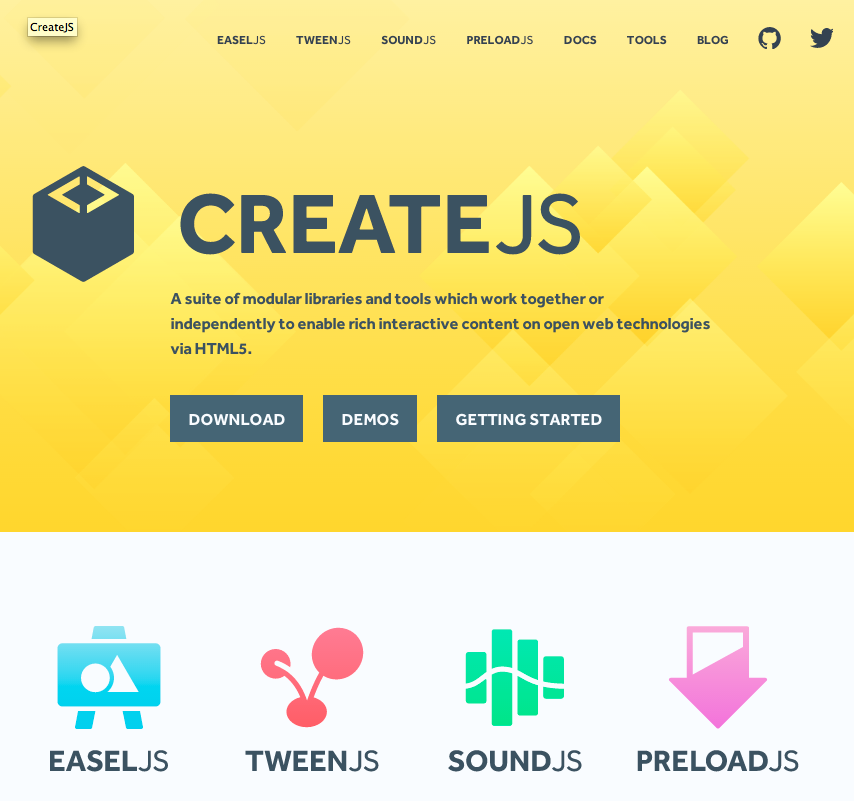 We have also updated this blog, CDN, and CreateJS documentation with the same aesthetic.