We are happy to announce the latest tagged versions of the CreateJS libraries. A lot of work has gone into this release to expand functionality, fix bugs, and stabilize the API.
This version introduces awesome updates to the event model, which enables event bubbling, and a bunch of other enhancements. EaselJS has also smoothed out animation capabilities (such as independent framerates in Sprites), added bounds support, and solidified the API, which should not change much moving forward.
The rest of the suite has been given a thorough polish, added new features (like audio property tweening in SoundJS), addressed issues & edge cases, and updates to support emerging features, such as supporting WebAudio in the beta version of Firefox.
Please read the VERSIONS.txt file in the root of each library's GitHub repo for a full listing of all changes and additions (EaselJS, SoundJS, TweenJS, PreloadJS).
Significant updates have also been made to Zoë to support the new animation capabilities, most notably the addition of an "animation" tab, which provides control of individual animations within a spritesheet.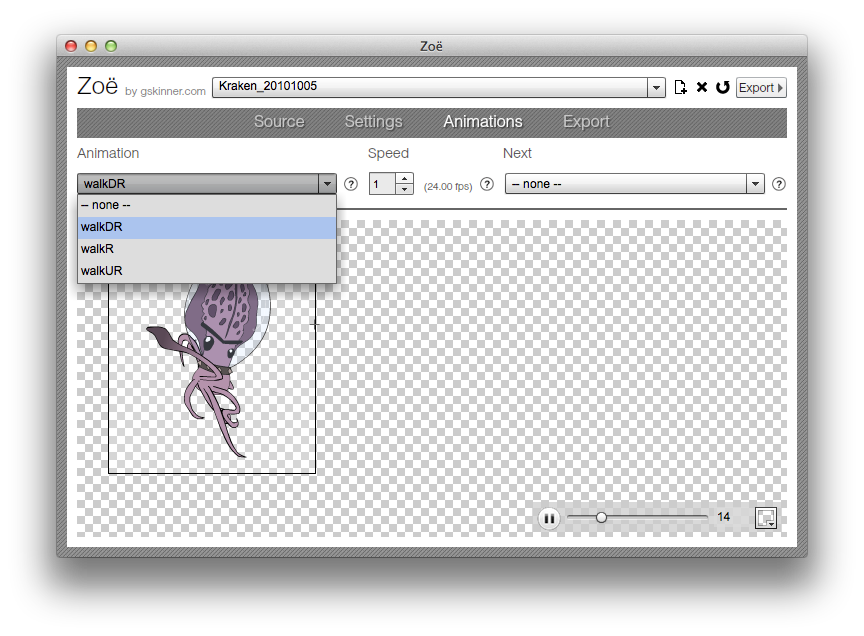 For power users, a new build process has been introduced based on the open-source Grunt workflow. Building the library is easier than ever before, and super fast!
In this version:
* TweenJS version 0.5.0
* EaselJS version 0.7.0
* SoundJS version 0.5.0
* PreloadJS version 0.4.0
As always, the latest versions can be found on GitHub, and minified versions have been added to the CDN, including a combined minified file with all the libraries in one convenient file. Toolkit users should see support for this version with the next update to Adobe Flash Pro CC.
Please let us know what you think! Log bugs to GitHub, and feel free to ask or answer questions on the Google group, or the community site.